The Best Municipal Permitting Software (Updated 2018)
Updated October 2018. I plan to do a few more updates before the end of the year, covering more products in depth, like AMANDA and Accela.
I analyzed four different permitting software solutions:
BasicGov
EnerGov by TylerTech
Municity 5 by Municity
ViewPoint Cloud
I believe that ViewPoint Cloud is the best overall product of these options.
TOP PICK: ViewPoint Cloud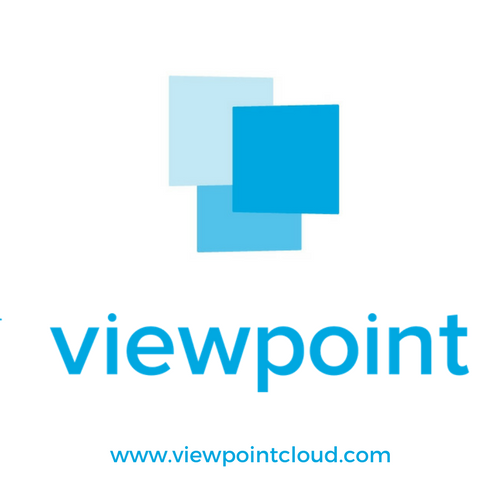 The Best Overall Permitting Software Choice
Three ViewPoint Cloud products, "Process", "Serve" and "Renew", effectively solve nearly all the permitting problems a municipality will face.
Pricing: Between $3-$10 per permit. Towns were usually quoted between $10k-53k one time fees and $14k-$39k recurring fees for cities between populations of 11k to 91k.
Website: viewpointcloud.com
Our best overall pick
ViewPoint Cloud is a full solution that is still sensible enough on pricing that it has been adopted by towns with populations under 4,000.
"Process" automates the process of permitting approval across departments with customizable workflows, and reporting and performance metrics that show who is doing what.
"Serve" lets citizens do their permit application work online, rather than on paper, and connects that data with the other ViewPoint Cloud products.
"Renew" automates the processes involved in seeking renewals for licenses for businesses, pets, etc.
What did I test?
I looked at the two major permitting responsibilities for municipalities: (1) Community development permitting, like building and construction permits (2) Licensing, for things like businesses, vendors, dog owners, etc.
I evaluated the options based on what I discovered about their…
Transparency
Pricing
Current customers
Customer reviews
Company focus
Functionality
Usability
Maintainability
Integrations
Our top pick may not be the right choice for your department...
Are you too small? ViewPoint may be out of your budget. The lowest annual recurring price I saw was $1,500 for a one seat license from BasicGov for a smaller town, which could work for your town if you are a single-person department.
Also, Consider that unless your spending over 5-10 hours a month on permitting, the benefits of digitization and online processes may not justify the cost for any software at all.
Are you too big? Also, for 'enterprise' level support, I did see some customers switching from other solutions to EnerGov. The typically cited reason was that as cities and towns got bigger, they needed more customization. That said, EnerGov comes at a higher cost (more about that below).
BUDGET PICK: BasicGov
The Best Solution for Small Budgets
BasicGov, a solution for permitting and licensing for local governments, has a package for small municipalities which costs just $1,500.
Pricing: As low as $1,500 to $42k, for towns with populations from 4k to a region that covered over 1 million people.
Website: basicgov.com
Our budget pick
I will cover BasicGov in more detail below, but they were definitely unique in the face that their bids were willing to go so low for a municipality that was probably small enough that it would be ignored by other competitors.
ENTERPRISE PICK: EnerGov by Tyler Technologies
The Enterprise Level Permitting Software Choice
EnerGov, which integrates with other Tyler Technology products, seems to be a favorite of larger municipalities.
Pricing: I saw a bid as low as $72k, bids around $250,000, and, one bid for over $2,000,000 when EnerGov was offered up as part of a 'Land Management System'.
Website: tylertech.com/products/energov
Our enterprise pick
EnerGov manages both the permitting needed for community development, and traditional licensing for businesses, pets, etc. EnerGov also mentions the ability to automate and simplify the tax remittance process for hospitality taxes (which is a distinct problem for more and more municipalities as sites like AirBNB grow in popularity).
With the unique integrations into the suite of other Tyler Technologies products, its history and far reach into local government technology, and its reputation for customizability, EnerGov is our Enterprise pick.
ALL OUR RECOMMENDATIONS: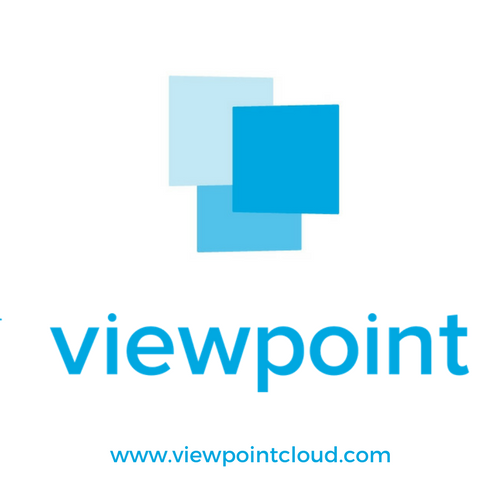 Best Overall
Best Budget
Best Enterprise
The Research: Table of Contents
Why you should trust me:
I have no financial interest in this review. None of these companies have asked to be reviewed, nor do I get paid for recommending or comparing anyone.
I've watched hours of video demos, sorted through over 1,000 pages of reviews, official marketing materials, financial documents, RFPs, press and more. I want my research to serve as a launching point for your decision on which permitting software vendors you contact for RFPs.
Changes to the industry:
Certain vendors have raced forward into the future, investing in cloud and mobile solution. Others appear to have not updated their product for 15 years, and the "product design" gap is widening.
There is another divide with vendors, with some more targeted at solving only one of the two major city permitting responsibilities (building/land management vs licensing), vs a full 'every permitting need' solution.
That means some "one specific problem" solutions may still leave the city needing to find a second software provider to manage the other half of their permitting.
All of the solutions provided building/land management permitting and licensing functionality, but Municity 5 required the purchase of an add-on module for licensing capabilities.
Which product is for you?
I really like ViewPoint Cloud. But, there are a few reasons I would consider other options:
Do you have other software that uses/runs on Salesforce? Then BasicGov may be the choice for you, since their platform is built on Salesforce technology.
Do you need flat-fee, predictable pricing? BasicGov is $1,500 a year, per admin user. If you have a smaller budget and only need one user to work on permits, this could be a solution.
Do you need enterprise level customizations, on-site training, and have a little extra budget? Or, do you have any other software from Tyler Technologies? Energov is a good place to look - we saw towns and cities leave prior vendors because EnerGov offered more customization and hands-on support.
The Best Choice: ViewPoint Cloud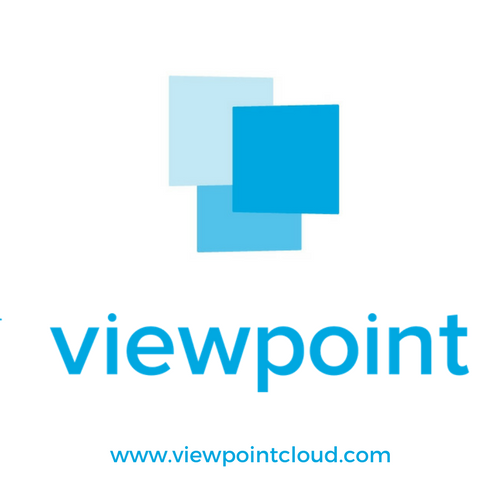 The Best Overall Permitting Software Choice
Three ViewPoint Cloud products, "Process", "Serve" and "Renew", effectively solve nearly all the permitting problems a municipality will face.
Pricing: Between $3-$10 per permit. Towns were usually quoted between $10k-53k one time fees and $14k-$39k recurring fees for cities between populations of 11k to 91k.
Website: viewpointcloud.com
Our best overall pick
ViewPoint Cloud won me over with all of the marketing material and demos that were available online. From their short promo...
To their recorded webinars...
It gave us a good idea of how the software actually looked and worked.
ViewPoint Cloud Details
ViewPoint Process allows governments to build workflows on what should happen with each permit, and then tracks the status of each permit across departments, signatures, documents and approvals (which can happen with a single click of a button):
Reporting comes with built in reports, customizable reports, and data export as a CSV.
The actual, in-app reporting is pretty cool, including the clean connection to the workflow part of the app.
ViewPoint Process also makes it easy to accept online payments, and easy to set up rules for changing how much permits should cost based on the specifics of the project.
BUT, I do think there is an area ViewPoint Cloud could improve (but I realize why they may not have an incentive to do so - see below):
While I appreciate the CSV reporting, a public reporting API would greatly improve the ease and simplicity for IT integrations with other products. It is still possible by moving around CSV reports manually or even with a programmer coding up automatic uploads to other systems, but that is a workaround that feels like duct-tape and bubble gum rather than an official solution.
Of course, that doesn't mean ViewPoint cloud doesn't integrate. ViewPoint will connect to your assessor system, ArcGIS Server, accounting system or contractor database… for a fee. (Each for between 1k-2k setup, and 1k-2k annual recurring costs).
Viewpoint Serve is a product that lets you put a 'self service' page on your website so citizens can manage parts (or all) of the permit process by themselves. It also notifies them of the status of their permits, and has a way for employees to chat with citizens about their permits right on the permit page.
---
Viewpoint Renew automatically handles the renewals of licenses (businesses, dog, etc).
Government employees can automatically notify license holders, and check on the status of the renewals.
Viewpoint also has an 'Inspect' module that helps with field inspections (many permitting software solutions I looked at came with functionality to help with inspections), but I won't be covering that because I think it is a little outside the scope of the topic "which permitting software should I get". I mostly considered the problem from someone "In" the office rather than out of it. In the future I'll cover inspection software.
According to Viewpoint marketing materials, Citizens report a 90% approval rating when using the software. A list of customers shows towns with populations around 4,000 up to 180,000. They also have a deal with the states of Rhone Island and Connecticut.
They are also listed on the 'GovTech 100' list of companies "making a difference in, and selling to state and local government agencies".
ViewPoint pricing is determined by two variables: Number of Departments, and Number of Permits issued.
For the products we've covered (bundled as their "Perform" package), pricing ranges from $5,000 per 500 permits per department to $25,000 per 8,000 permits per department).
Total costs I've seen on different proposals floating around the internet are, from lowest to highest:
15k first year with 9k recurring.
24k first year with 15k recurring
53k first year with 40k recurring
72k first year with 32k recurring
The Budget Choice: BasicGov
BasicGov is the only solution I saw in municipal financial documents that had a contract for under $10,000. They sold a single seat license for $1,500 to a small municipality. This could be a solution for a small town or county where the department size is just one or two people.
BasicGov provides the services of managing licensing, and community development like our other two choices. Integrations with Esri and Bluebeam come out of the box, and online payments and online form submission are features as well.
An online portal for citizens and businesses to do their part of the permitting process, the ability to create custom workflows, and the ability to create letters licenses and reports automatically from basic of database data
One of the large selling points that BasicGov highlights in their marketing materialsIs how they are built on the Salesforce platform.
If you are unfamiliar with Salesforce, it started as software for salesman and sales managers, and has evolved into a tool that does sales, customer service, database management, and hundreds of other tasks.
Salesforce opened up their software several years ago so that other companies could build add-ons and plug-ins, and hundreds of companies have integrated with them. BasicGov is one of those companies. You can see that there solution is listed on the salesforce app exchange here.
One of the benefits of being built on this Salesforce platform is that you can assume that the security and reliability of the system will be high quality. Salesforce is used by many Fortune 100 companies, and Salesforce has proven themselves capable with security and reliability in those high-stakes organizations.
Of course, there is the flip side that you may feel locked into the Salesforce ecosystem. While that's a concern, it does seem to me that "vendor lock-in" isn't just an issue that afflicts BasicGov - the switching costs from one software to another will always exist, no matter who your town chooses. Also, because Salesforce has opened up their platform to third parties through their app exchange and to individual developers through their APIs, I see the arguments about "Lock-in" as less important.
The Enterprise Level Choice: EnerGov
EnerGov made the cut for 'Enterprise' because I saw in many procurement documents was that it was highlighted as 'Mature' or 'Fully Featured' and was mostly considered by larger municipalities.
Energov was founded in 2002, and was acquired by Tyler Technologies in 2012 to add to their giant suite of other products. EnerGov integrates with these other products, and their integration with "Munis" was one of the listed reasons a municipality chose to go with the Tyler Technologies solution. It is also offered as a cloud product or an on-premise solution.
Energov isn't as open about the actual look of the software. There are a few marketing photos of their 'self-service portal':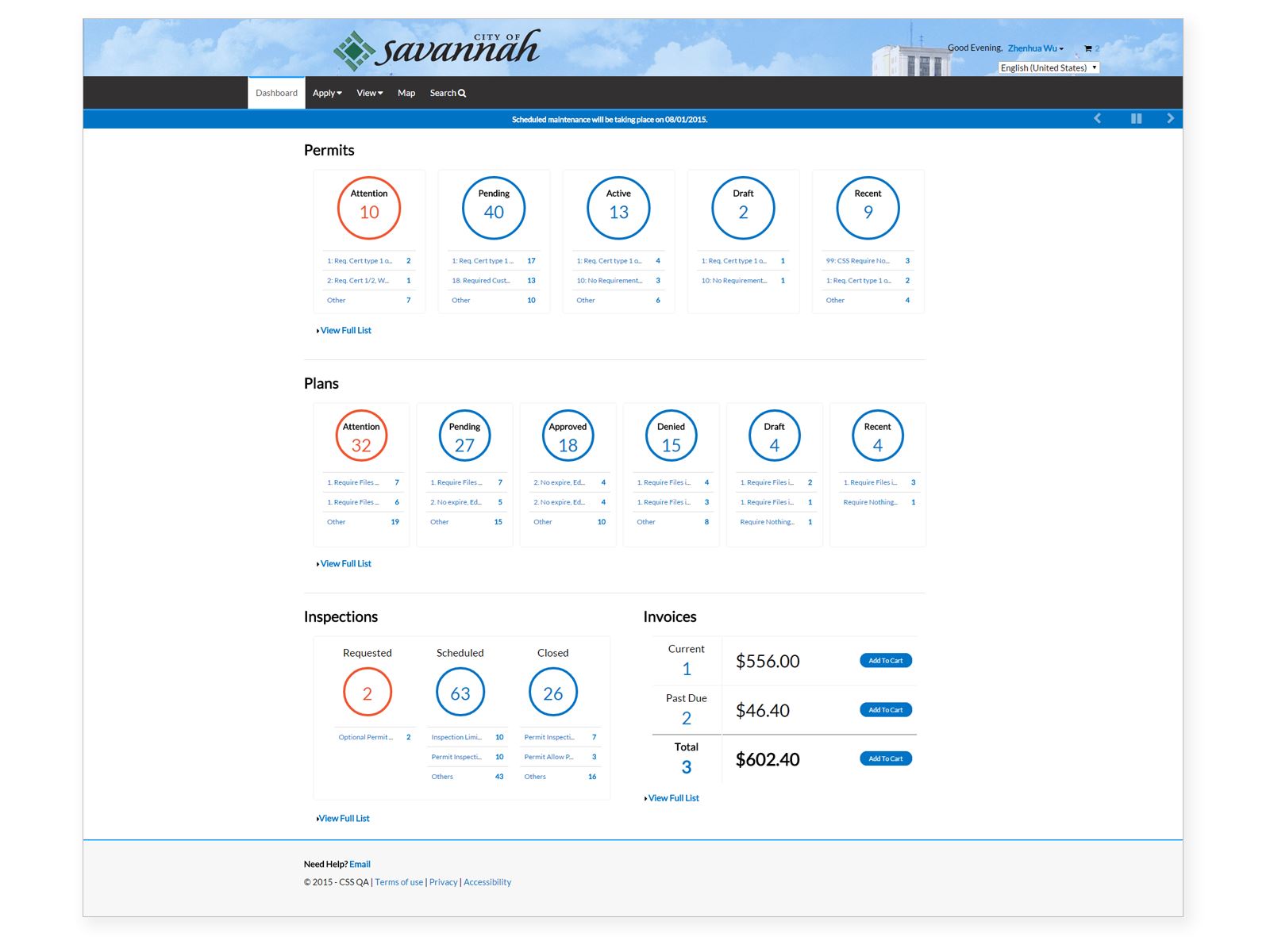 ---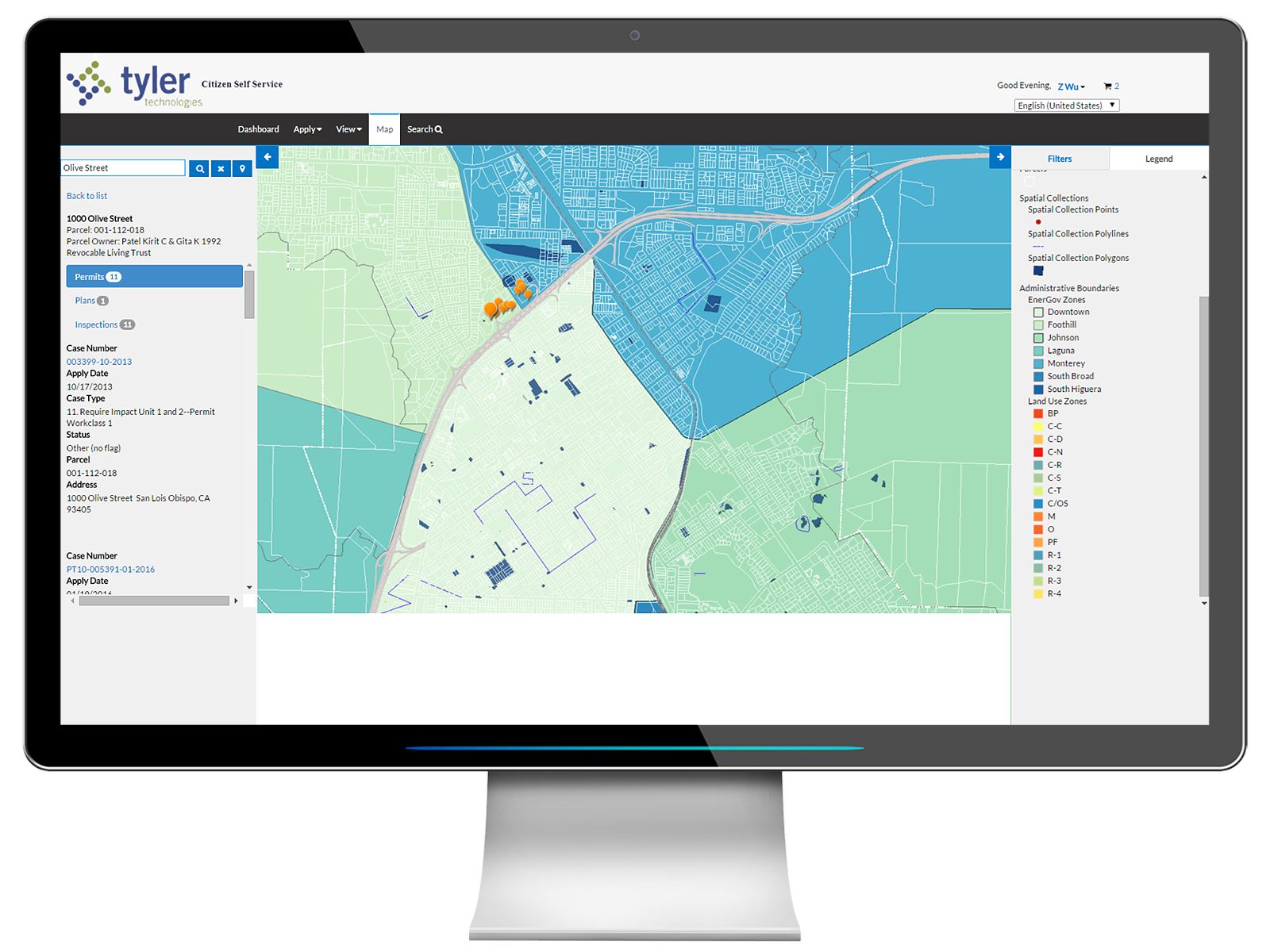 However, we can get a glimpse by looking at training videos from municipalities who have adopted EnerGov as their permitting solution, like below.
EnerGov has several online reviews ¹, and there seemed to be a few patterns. Some reviewers mentioned that the liked having all of their data from multiple departments in one space…
"With the online portal a citizen can complete one application and it can be processed by many individuals internally"*
"EnerGov offers one place that all of our data lives. Planning, permitting, EvH, Engineering, which is what we want."*
However, there were also a few reviews that disliked the lack of training and support.
"I dislike the lack of including training materials. Tyler U training videos should be included in the cost of the yearly license fees."*
"Support is slow to respond occasionally. They are bogged down with requests. White papers are hard to obtain."*
FYI: One time fees and implementation times.
Some things I saw in a few of the RFPs by these companies
Estimated implementation times from ViewPoint Cloud marketing materials are 4-8 months long.
Many companies have extra required fees for department onboarding and on-site support.
The Other Competition:
These are the only solutions for government permitting. Here are the rest of the company's that we plan to review in the future. Sign up below if you would like to know when we update this page with new info, or message us to let us know which product you would like us to review next.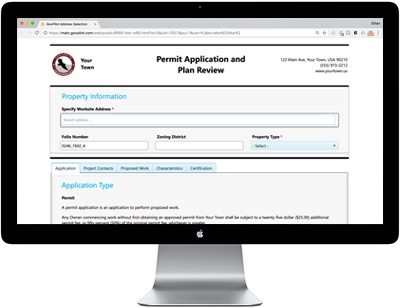 Magnet by CSI:
Maintstar
Municity 5 is a software solution that does permitting and licensing -
It integrates with GIS like the other solutions I picked as the best in their categories. If a municipality picked Municity 5, I'm sure they would be fine. And, there is a suite of other products by Municity like utility billing or tax collection that I'm sure it integrates well with. I'd be surprised if most of their current customers weren't pleased. BUT there were a few issues that stopped them from being my top pick:
I struggled to find things like documentation, white papers, or marketing materials from them or third parties. Online research is mostly constrained to one page on their website and a few documentation videos. I personally like to do research myself before talking to a sales rep, and I wish I had more I could see.
It had a cost that was comparable to our best overall choice (I saw RFP and contract prices as low as $9k to up to +$100k) making it too expensive for our budget pick, and I thought the UI design and listed functionalities didn't wow me like the best 'overall' pick. The design looks old, and I couldn't find any images of documentation about things outside of land permitting like business licensing.
They didn't have a list of current clients on their website or marketing materials. That social proof is important to me.
Errors? Updates?
Did I miss something? Is there a company or product I should have included? Do you have a personal review or insight into permitting software? Message me by clicking the little message icon in the bottom right hand side of this website and I'll update this page (and even cite you as the new source of knowledge if you want!) as soon as possible.
Please submit your email at the top, bottom, or side of this article (there are a lot of places to do it), and I'll let you know when updates to this page come out, and occasionally send you new articles about local government.
Sources:
[1] Reviews comes from g2Crowd